Knockma the great 'Hill of Maeve' is situated 2km west of Belclare. Maeve the legendary Queen of Connacht is reputed to be buried in the Cairns on the summit of the hill from which one of the greatest panoramic views in Ireland may be obtained.
The walk from Castlehackett at the base of Knockma, around the hill, to the top and back down is approx 4km.
Tradition also points to Knockma as the home of fairy legend. Two of the three cairns on top of Knockma are said to be the resting places of Maeve and Ceasair. Knockma is also said to be the place where Finvarra (Finnbheara), the King of the Connacht faeries, holds court.
This partially wooded hill contains examples of the famous Burren flora, the Spring Gentian and the Purple Helleborine to name but two species. From the summit of Knockma may be obtained one of the grandest panoramic views in Ireland.
Several new discoveries on the "fairy" hill of Knockma in north Galway suggest that it was a significant ceremonial area dating from Neolithic times, according to two archaeologists.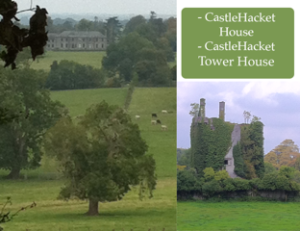 The 552-ft. high Knockma (from the Irish "cnoc mag", the hill of the plain), is best known as home of Finvarra, king of the Connacht fairies, while Queen Maeve of Connacht is reputed to have been buried there.
The limestone summit, which commands views of Galway Bay the Burren, Lough Corrib and Cong, is marked by four stone cairns which may be passage tombs.
The central cairn is said to have been the burial place of Noah's granddaughter Ceasair, and bears her name, translated as "Carn Ceasra".
Another of the cairns was remodelled as "Finvarra's Castle". There are several additional cairns farther down and the general area is rich in archaeological features ranging in date from the later Mesolithic (6,000-7,000BC) to early pre-Christian periods.
Archaeologists Nora Brennan and Michael Gibbons have recently discovered several new tombs and the remains of a hill fort on a subsidiary ridge to the east of Knockma.